Here on Grey St. we constantly seek out the latest and very best in independent eyewear.  This mission takes us to some amazing places, as we scour the globe looking for frames that stand out from the crowd.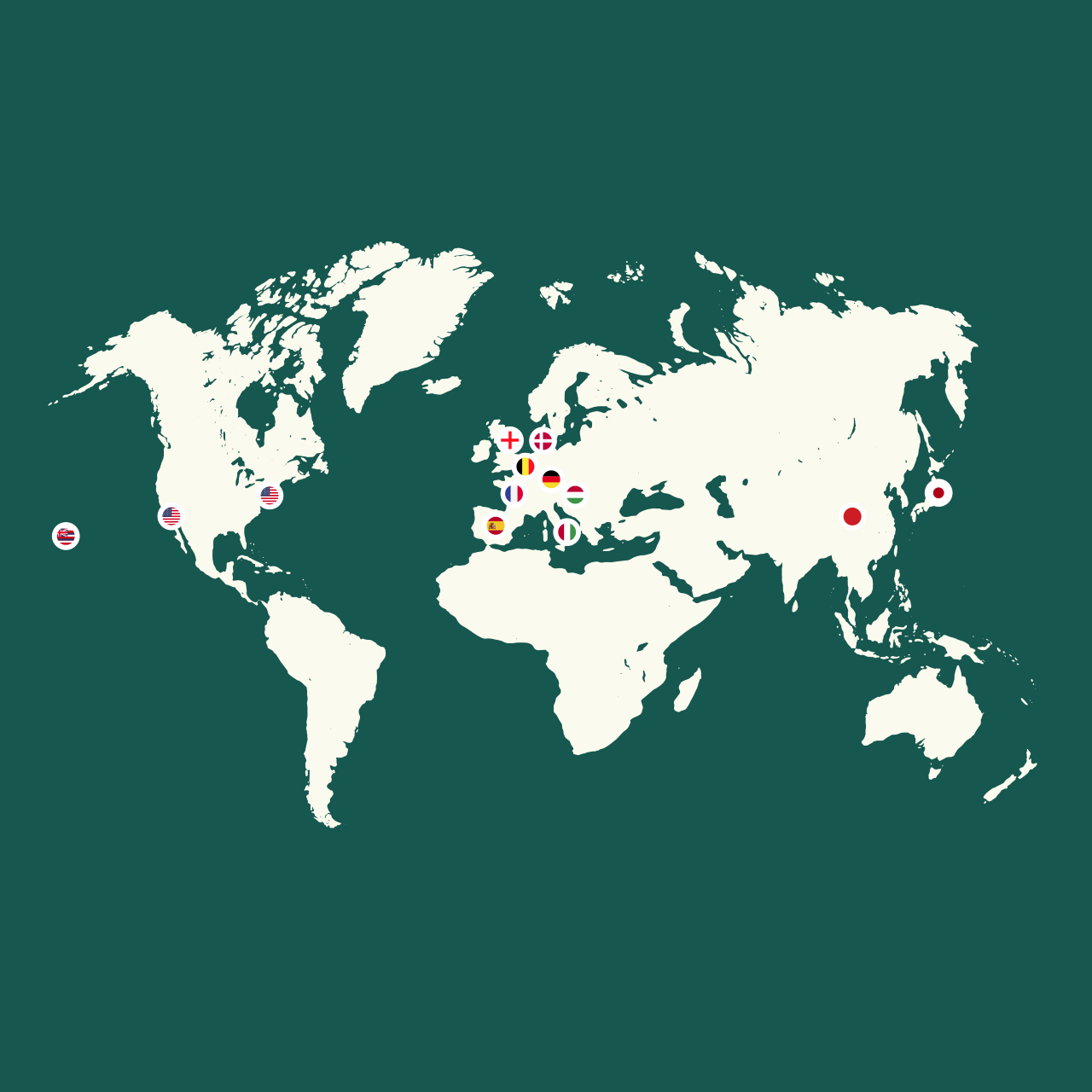 We're discerning about what we'll bring back to the North East of England: Frames need to look and feel fantastic if they're going to make it back to Grey St!
So when we heard whispers about a stylish new collection coming out of New York, we knew we had to get them in our hands!
In February 2019, Rachel made her way to Brooklyn Army Terminals to check out LOWERCASE NYC…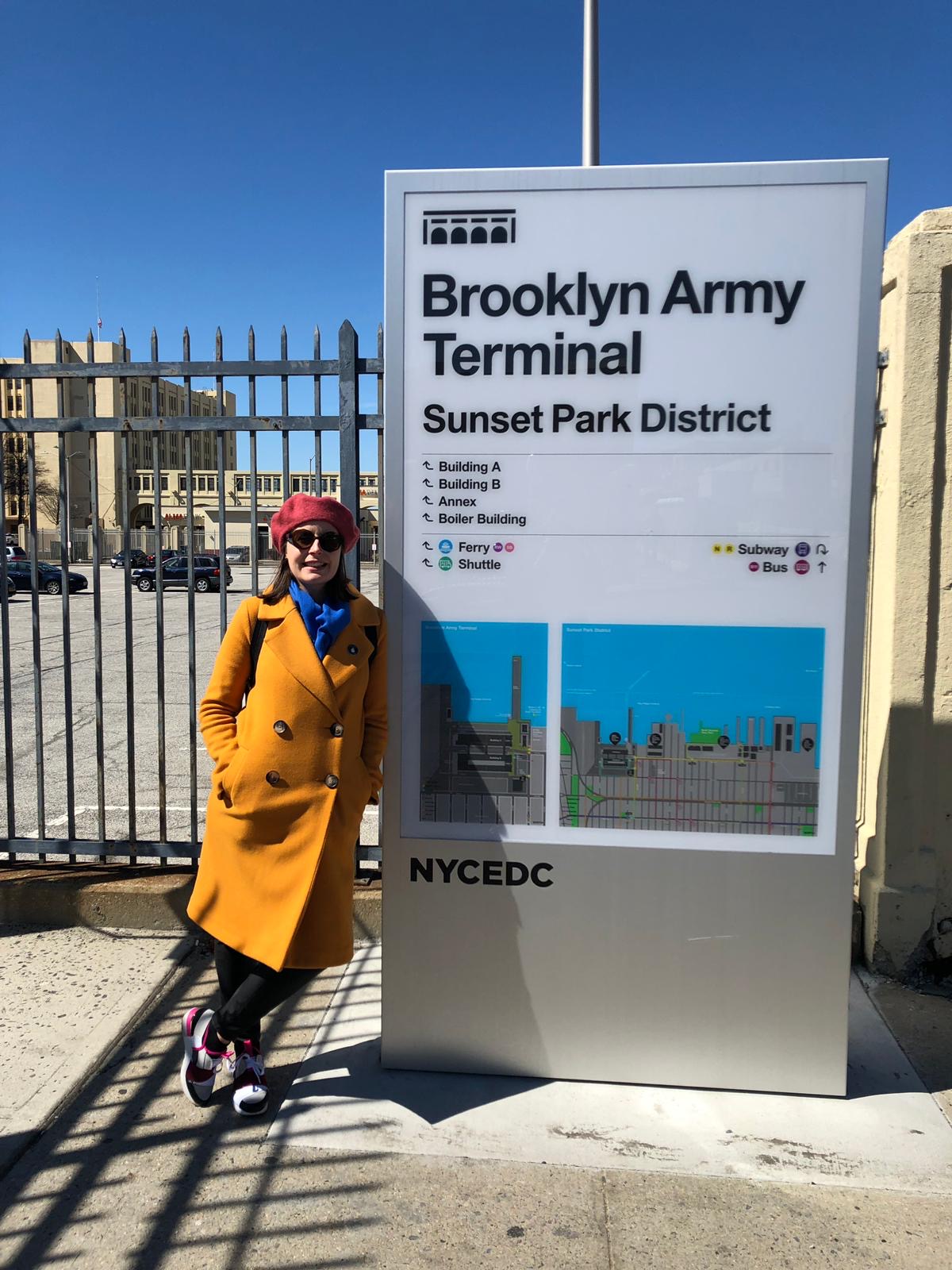 She met with the people behind the brand  and took a tour around their workshop, exploring their 30-step production process, as well as admiring their beautiful designs (of course!)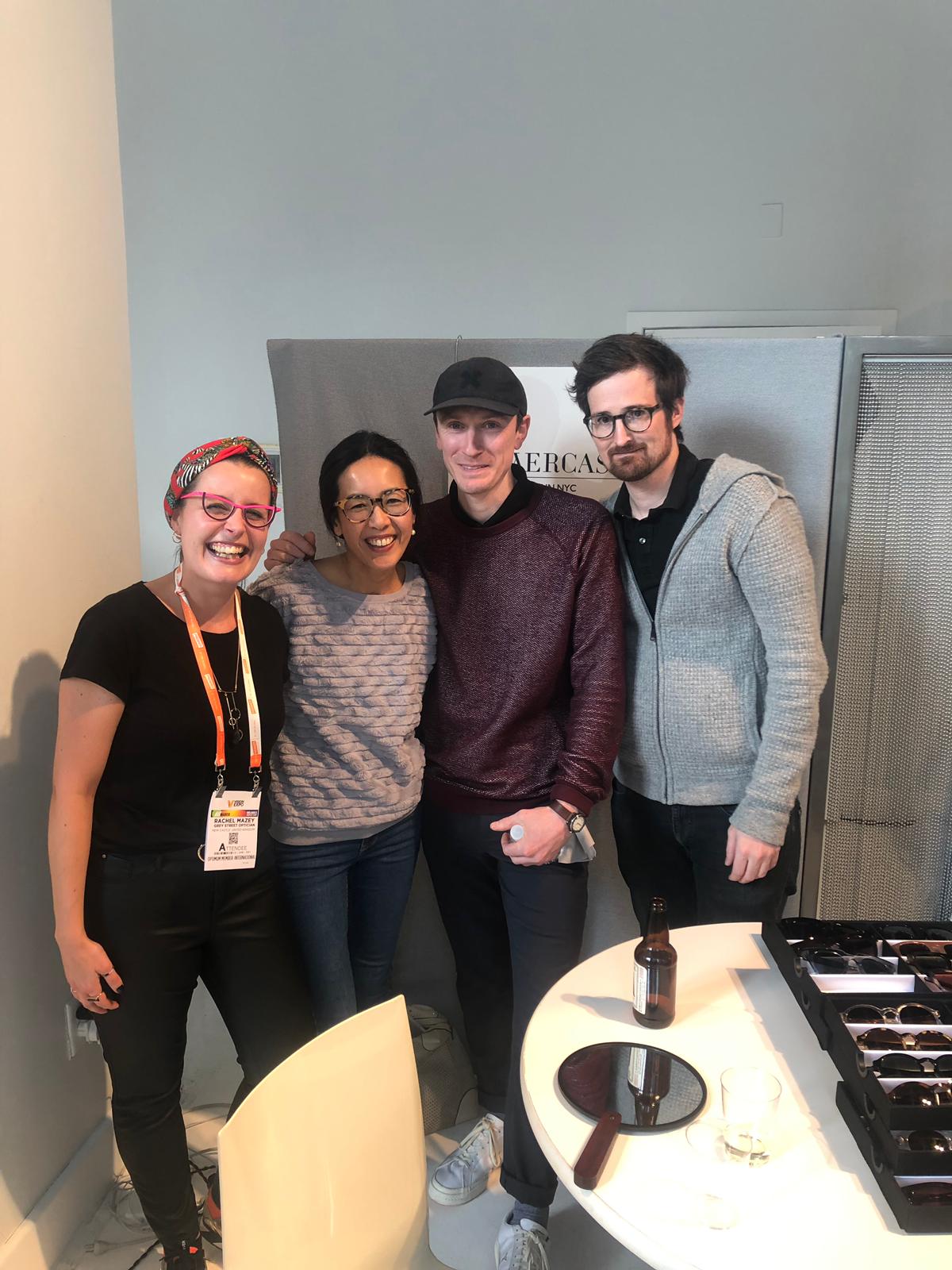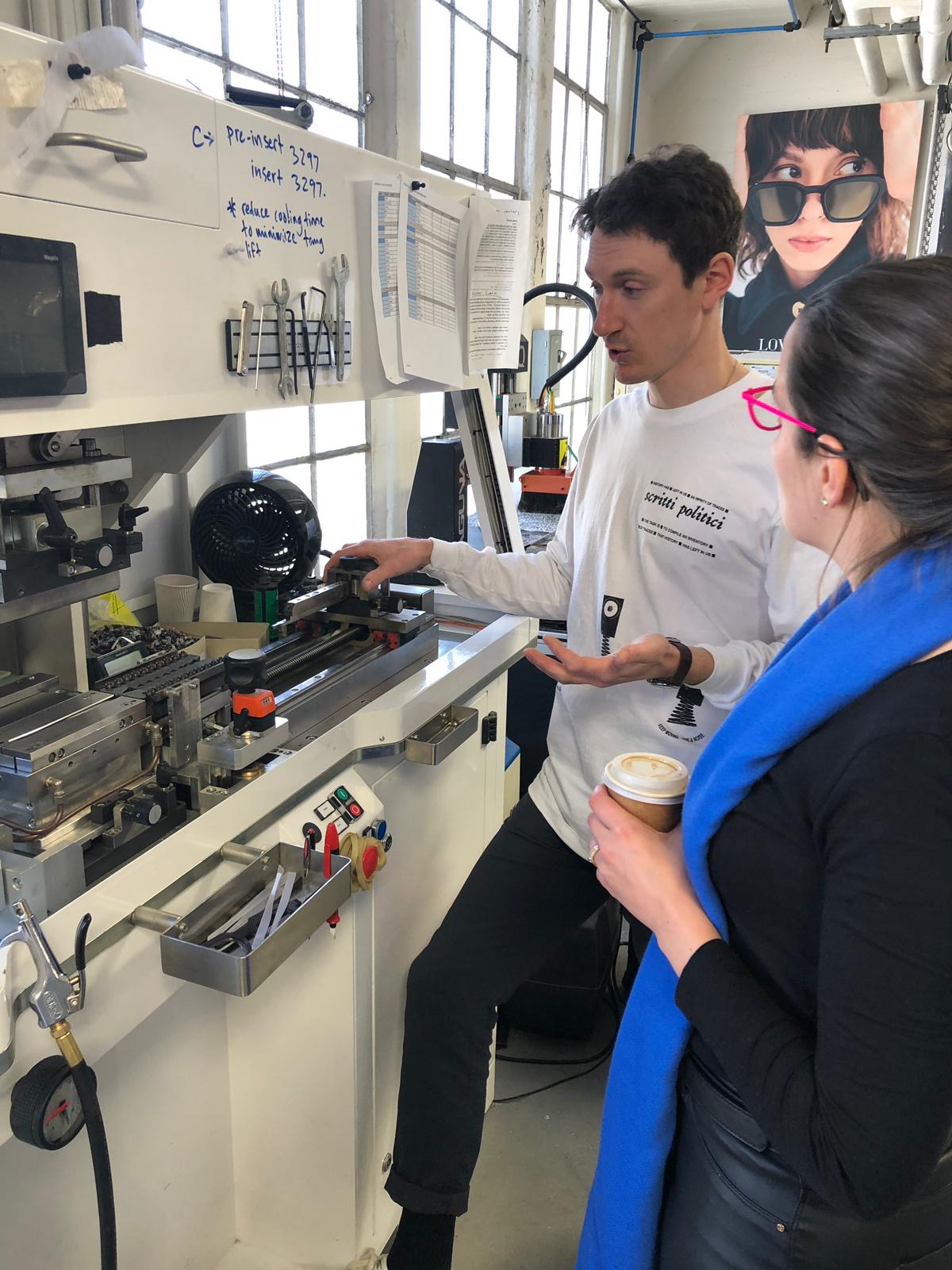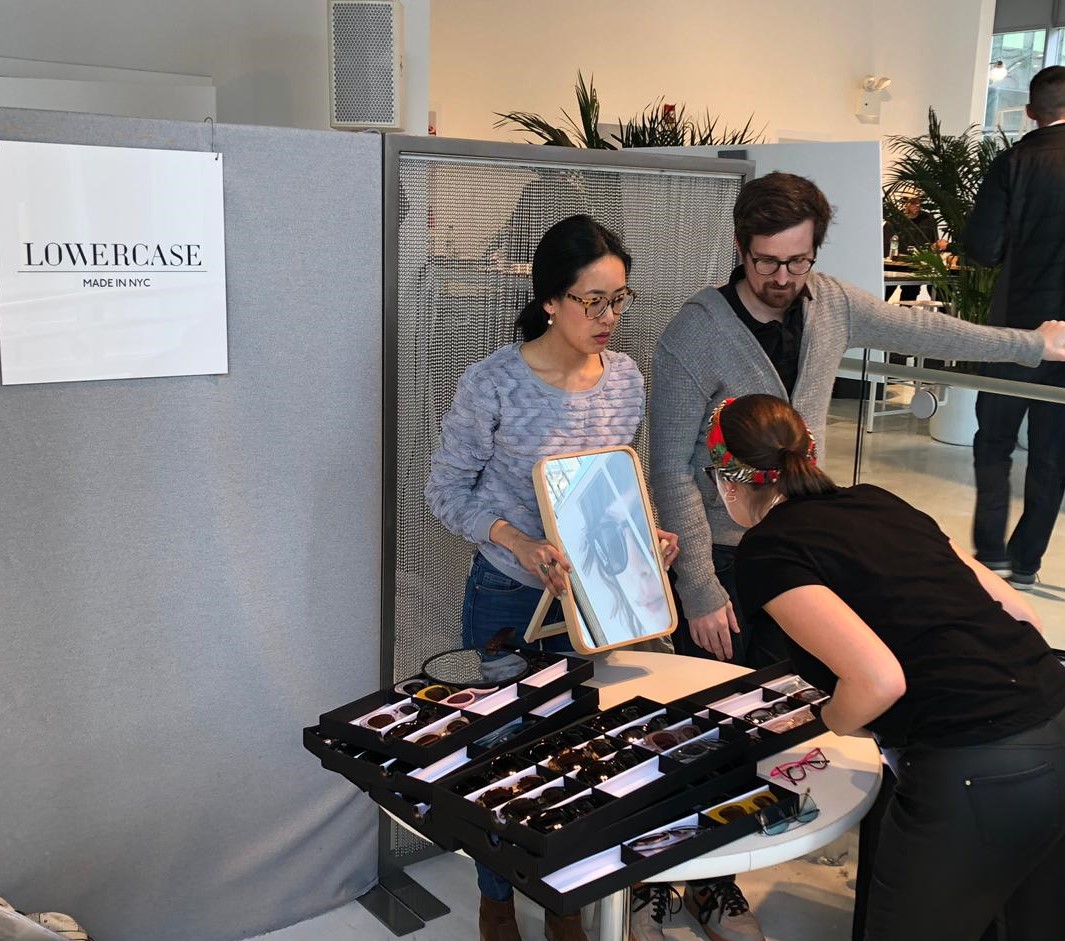 Lowercase frames lived up to the hype. Not only are their designs beautifully timeless, their craft and construction is second to none.
They share our appreciation of quality; sourcing only the best materials and employing the latest production techniques, with a focus on precision and sustainability.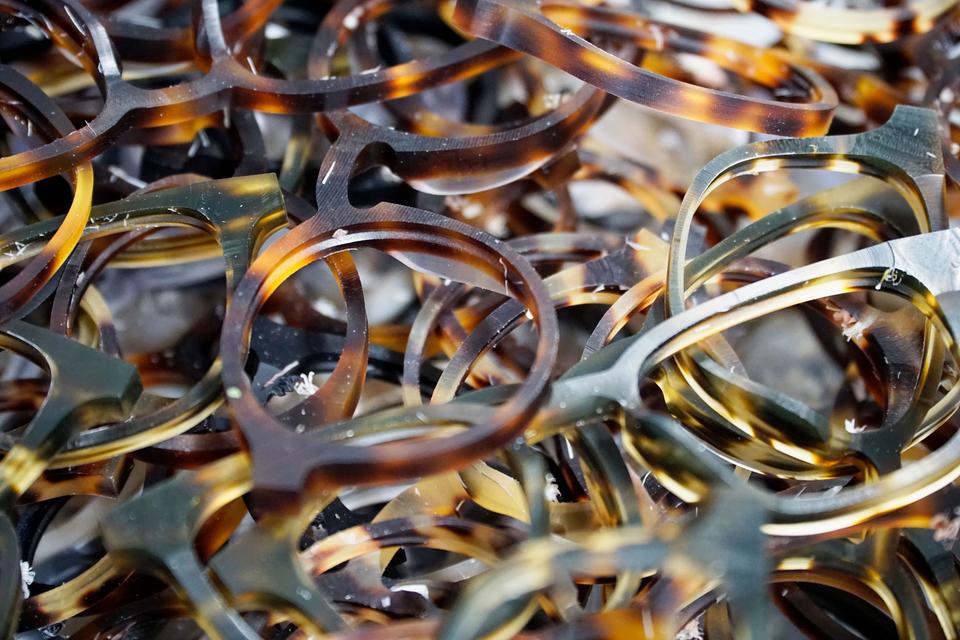 We were honoured to become the first and only European stockist of Lowercase NYC!
18 months on, and LOWERCASE NYC have become a firm favourite here on Grey St, with both our team and our clients! This is no surprise, thanks to their wearable shapes, thoughtful colour palette, and outstanding construction.
Globally, the brand has gone from strength to strength, with features in Forbes, Harper's Bazaar and Wall Street Journal.
We thought now was a great time to find out more about the world's new favourite eyewear brand…
So Gerard (Masci, co-founder), tell us about your team. How did you meet?
I had been working on Lowercase for about 2 years, and was struggling to find someone in NYC who was interested in building a manufacturing company. Then a mutual friend introduced me to Brian (Vallario, co-founder).  
Brian and I met for a drink at the Marlton Hotel, which is where the Marlton frame name comes from. Brian told me upfront he wasn't interested in the position, but he offered to help me find someone. But by the end of the drink, Brian was excited to partner up!
The rest of the team has come together through a series of personal relationships and job posts.  We are currently a team of 6, with 5 of us working in the workshop and one member working from home on sales and marketing.
How did Lowercase NYC begin? What was the initial inspiration behind the brand?
Lowercase came out of a period in my life when I hit a crossroads in my career:  Do I continue with finance (as I had been for the past 12 years) or start a new journey? 
After a lot of time weighing my options, I decided to try and build my own eyewear brand.  Eyewear had always been a passion of mine, ever since I wore my first pair at 13.
Consumers were caring more and more about where their products came from and how they were made, and I believed this would extend to eyewear. 
What sets LOWERCASE NYC apart from other eyewear brands?
If I had to boil it down to one thing I would say our approach the manufacturing, which we hope comes through in the quality and feel of our frames.  At Lowercase we take ownership of every step in the production process.  We design in the same space that we produce where we also pack and ship.  We believe having an intimate knowledge of the design process is very helpful during the production process which is a rather unique setup.
Where do your frame designs begin?
The frame designs begin with Brian developing a theme. This could be a color palate, architecture, an artistic period… And then we go from there.
What's each of your favourite frames from
the collection? Is there a model that you like to wear yourself?
As far as what I wear, I have been pretty loyal to the Marlton for my optical frame from day 1, although the color has changed over timed. I'm currently wearing Citrus.  For sunglasses I'm really into the Astor in Sunspot.
Brian – Astor Sage
Austin – Opal Tobacco
Ryan – Lenox Honey
Liz – Fitz Champagne
Lowercase NYC was founded in 2016. What have been your highlights of the last 4 years?
The first frame we cut on a table top CNC was nowhere near good enough to be worn! But was the first physical manifestation of our years of work will always be my best memory…
Another particularly satisfying one for me was being featured in the Wall Street Journal.  After having worked on Wall St for 12 years it took me starting a manufacturing company to get a mention in the financial press!
Honestly, anytime a customer has something nice to say about their experience with the frames is always so rewarding.
How does it feel to see people wearing your frames?
It feels like a celebrity spotting for me, I've only come across a couple of people wearing our frames on the streets of NYC but even when people tag us in their personal Instagram posts I can't believe that something I've physically worked on is the hands of someone I've never met.  It very much makes the world feel small when I see someone wearing our frames.

We travelled to Vision Expo in February 2019 to meet you guys. Unfortunately that show was postponed for 2020, but there's sure to be more in the future! How was your first trade show experience? What's been your impressions of the independent eyewear world so far?
Our first trade show experience was much better than we expected. 
In addition to Grey St becoming our first European Stockist we also connected with our first Australian stockiest. I don't think either of those relationships would have happened without the Loft…
It was great exposure for us as a young brand and we were really looking forward to a busier 2020 show. Hopefully we can recapture some momentum for the 2021 show. 
As a whole, the independent eyewear community has been really kind to us.  We would not have been able to progress the way we have without the help of industry veterans we've met along the way like Lou Fullagar, Ana Sedes and Nate Ogura.
As your first European stockist, we were excited to introduce your frames to our clients. They've quickly become a bestseller for us.
What's next for Lowercase NYC?
We are constantly working on new designs and searching for unique acetate.
More specifically, we are going to be releasing a limited edition production of a frame that one of our interns designed (it's very cool!).

Lowercase NYC's latest collection is available now, exclusively at Grey St. Optician.
Get in touch if if you'd like to see them for yourself!